When I opened
Hapa Girls
on Etsy almost 3 years ago, I never imagined I would have 1000 sales! Actually it is probably more with all the custom multiple listings I've done, but still 1000!
In honor of this personal milestone, I have decided to do a 1000th Sale Giveaway!!! You are probably wondering what you have to do to enter this giveaway?
Rules:
1.Visit my Etsy shop (if you haven't already) and take a look around.
2. Go to my
Face Book Fan Page
and post to my wall your favorite item in my shop.
3. Leave a comment and your contact info under this blog post.
How easy is that?
*I will be giving out numbers to everyone entering in the order of the information left in this blog post.
*I will pick a winner randomly with the help of Random.org. I will announce the winner on my Face Book Fan Page!
*This giveaway starts TODAY, November 29th and will end on DECEMBER 6th (1 week from the start date.)
Oh! I bet you are wondering what I am giving away!!!!! Well, since this ring was one of the top trending items on
Wanelo
with over 385 saves, I'm giving away one of my new Cherry Blossom Branch Adjustable Rings! You will have the choice of the Rounded petals or the pointed petals.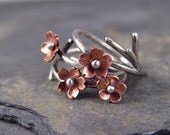 Good Luck and Thank You for making my 1000th sale possible!